Introducing Villa JOJU Alit
Meet Villa JOJU Alit
Alit was named after the word for 'baby' in the local dialect. Built just next door, the property has 4 king bed rooms and furnished in the same tropical luxurious style as its 'big sister'. The two concrete siblings are connected by a gorgeous Balinese gate.
Book both villas and increase your JOJU vacation capacity to 22, plus infants. We apply an immediate 10% discount to any booking for both villas.
Feel free to talk to us about hosting special occasions between the two villas, we love to celebrate!
ALIT STYLE!
Villa JOJU Alit is built in a tropical courtyard style around its own private pool.  Paved with trademark Bali green stone, it has a ledge for conversation and play for swimming children. We can install a rentable pool fence prior to arrival. Complimentary pool toys and inflatables can de delivered for the kids (including the big kids!).
Villa Alit has 4 King Bedrooms, one of which has the option to have 2 Twin Beds.  Fully-staffed, Alit's nightly rates also includes daily breakfasts, housekeeping and return airport transfers.
Open Plan Living
Alit's traditional Sirap roof is built in the same style that the Balinese have used for centuries, and is a simply stunning sight in the open plan living area, where living, dining, and kitchen seamlessly blend together. Villa JOJU combines the living, dining and kitchen area in a beautifully bright space. Sliding doors lead out onto the pool and paved outside dining area, and a huge picture frame window, acknowledges Balinese flora and fauna as the work of art it truly is.
The Dining Table is a stunning piece of Balinese piece of white-washed wood, and seats up to 10. High chairs are complimentary.
The Master Bedroom
The monochromatic palette of the Master Bedroom is brightened by giant banana leaf plants and natural rattan tones. Air-conditioned and pool-facing, Villa JOJU Alit's Master also has a poolside alfresco dining area.
The Twin Bedroom
Alit's twin room can be configured into either a King bed or 2 single bed arrangement.
It's the Jungle Twin that we recommend for Alit families, as it's our solution to the problem that we always faced with finding a safe and beautiful space for our children to sleep in a Bali villa.  This room has an optional interconnecting door to the Master Bedroom, and is lockable from the outside so that little ones have to go via their parents to get to the pool.  Reassurance and privacy for parents, and better sleep for everyone!
The Ikat Bedroom
Named after the traditional Indonesian textile that heads the deluxe King size bed, the poolside Ikat Bedroom is fully air-conditioned with an ensuite shower room.
The Terracotta Bedroom
The Terracotta Room's earthy tones are stylish but comfortable. Situated right next to the poolside sun loungers, whoever sleeps in The Terracotta Bedroom will always get a sun bed! Fully air- conditioned, this beautiful space has a gorgeous open air en-suite shower room, with it's own small but perfectly maintained tropical garden.
The Media Room
Alit's cosy media room boasts a Smart TV and hi-speed WIFI to stream TV and movies.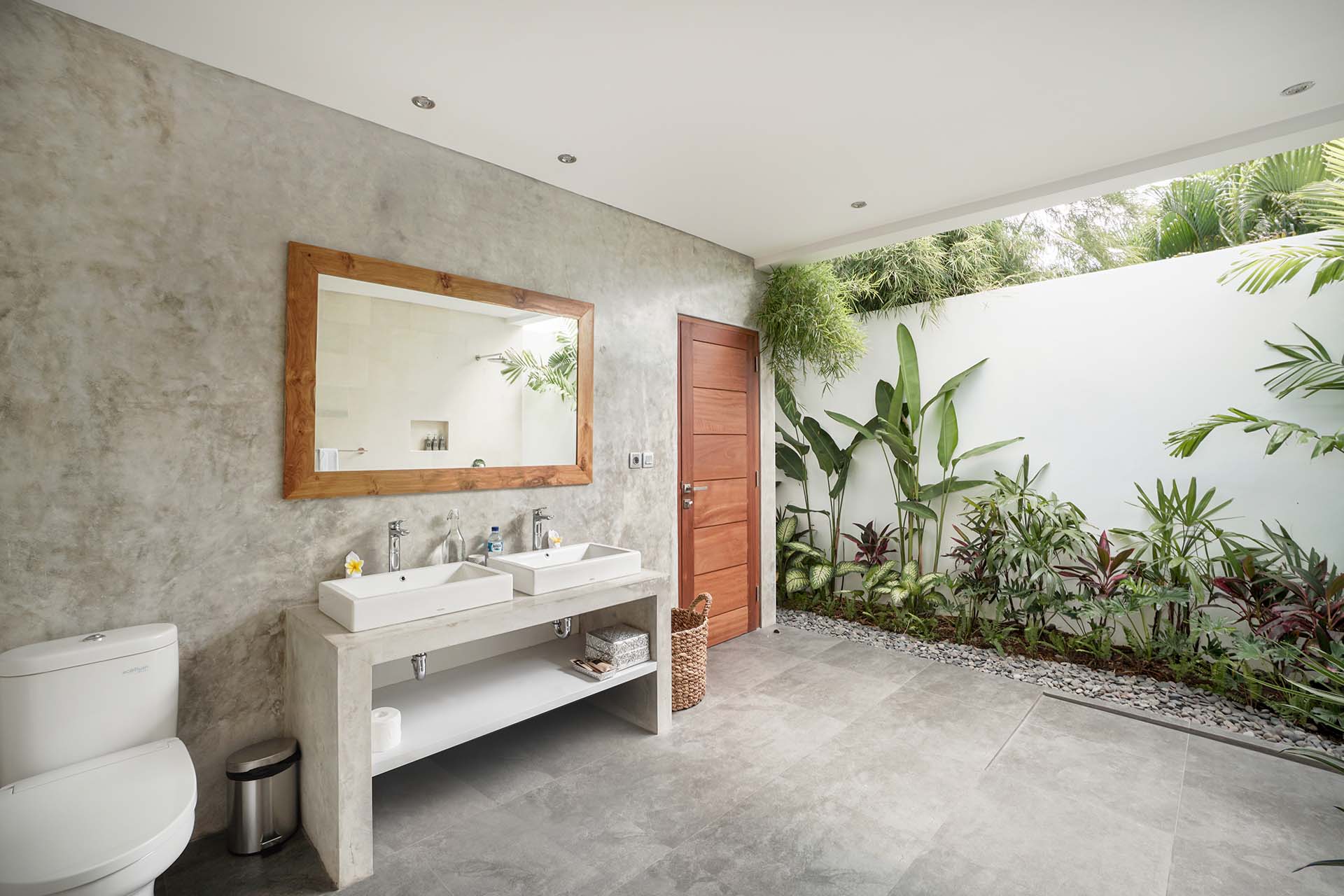 The Bathrooms
We opted for showers over bath tubs in this villa, built with clean and contemporary construction materials like polished concrete and Balinese natural stone, Alit's walk-in showers feel like those of a luxury spa retreat. The Terracotta Bedroom has a beautiful open air shower room with it's own tiny tropical garden.