[smartslider3 slider="2″]
[hb_booking_form search_only="yes" redirection_url="http://villajoju.com/staging/book-your-villa/"]
RESERVATION HOTLINE
+65 9728 2365
Reservation assistance available 24 hours
THE VILLA
Our property is perfectly located just off of Jalan Pantai Berawa, and only a short drive to the famed surf and magical sunsets of Berawa Beach.  The villa is also conveniently located only a few minutes walk from both picturesque paddy fields and some of the best shops and restaurants in Canggu.
MASTER BEDROOM
The villa is unique in Bali in that everything about JOJU has been designed with the enjoyment and peace of mind of vacationing families. Sleeping arrangements are notriously difficult with young children, especially in Bali.  While we love outside living, it's just not practical to have little ones in a separate room to their parents, when if they were to wake in the night, they would have to wander around in the vicinity of a pool to find their parents.  In a new environment, children often want to stay close to their parents. It's for this reason that the Kid's Room at Villa JOJU is attached to the Master via french doors and a gorgeous timber half-moon staircase.
It's for this reason too, that the Media Room is also attached to the Master via french doors on the right hand side.  Parents can Netflix & Chill within hearing distance of little ones, knowing that they are secure.  Although we can also help to facilitate baby monitor rental.
.
MEDIA ROOM
The Villa JOJU media room is a cosy corner of the house where the Smart TV is configured with both Netflix and Apple TV.
Inside, french doors lead to the Master as part of its suite, but the room can just as equally be used by everyone in the house, especially for our JOJU #Netflix&Chill experience; just let us know the pizza and wines to order in advance!
KIDS ROOM
Villa JOJU's giant kid's room, complete with bunk beds and comfortable rollouts, sleeps six children.  One of our favourite muralists spent almost a week painting the wall, which is an homage to our love of British author Julia Donaldson's Gruffalo books.  In the mural, Gruffalo & friends are visiting the Indonesian jungle – orangutans, snakes, and monkeys mix with illustrations of Owl and the Big Bad Mouse.  Adults and children, alike adore it.  There is ample storage space, not that you will need it as there isn't much excess to pack – the room is full of popular toys, games and books.
THE BLUE BEDROOM
The Blue Bedroom, like all of the bedrooms at JOJU is air-conditioned and features black out curtains.  Decorated in different hues of blue, it's a particularly calming place to sleep located on the first floor.
It also boasts the best view in the house, which is why a floor to ceiling picture frame window is fitted, revealing the rolling green landscape of Berawa Village.
BLUE
International TV and movie channels are available in our cosy media room.
GREEN
International TV and movie channels are available in our cosy media room.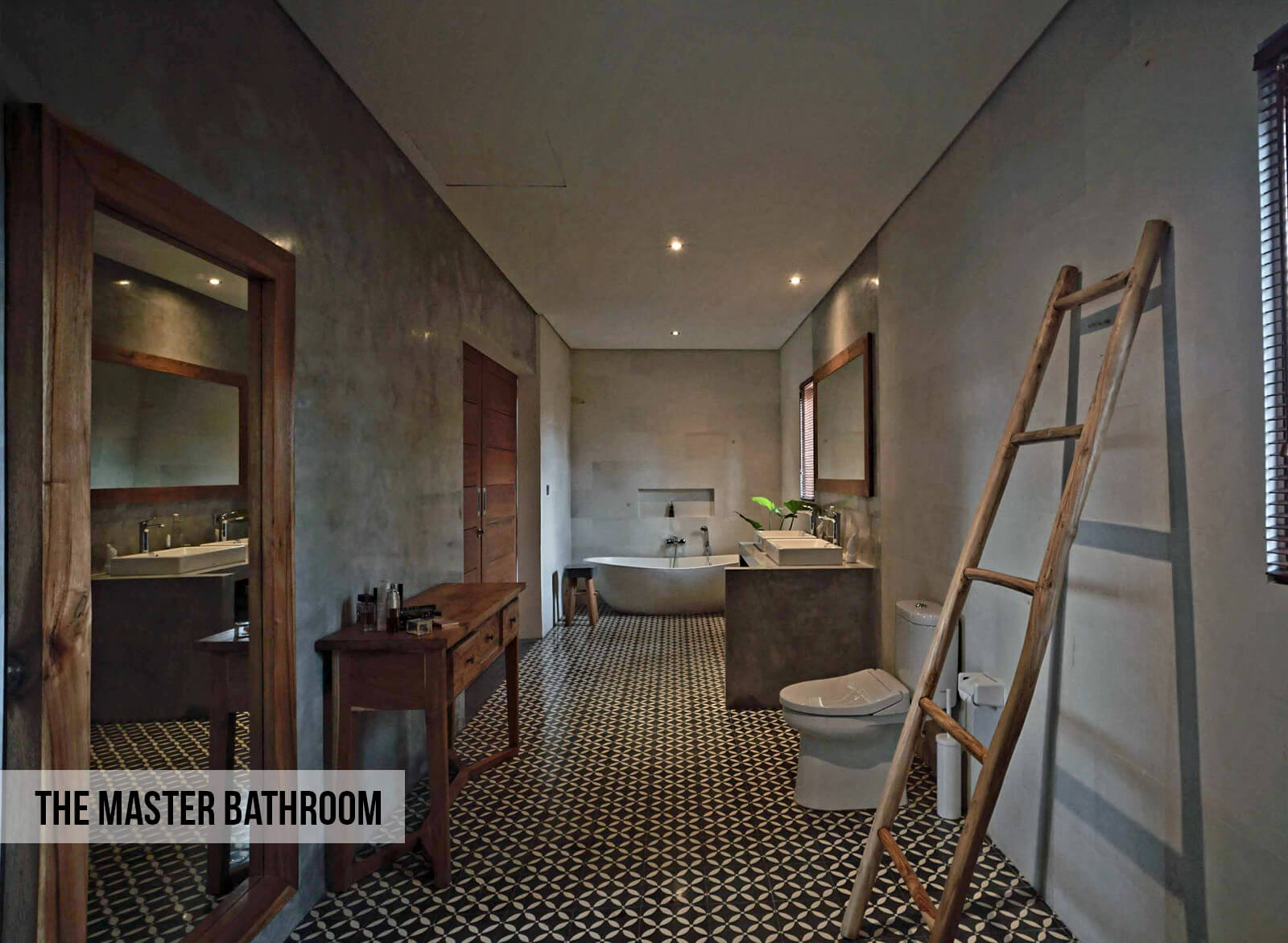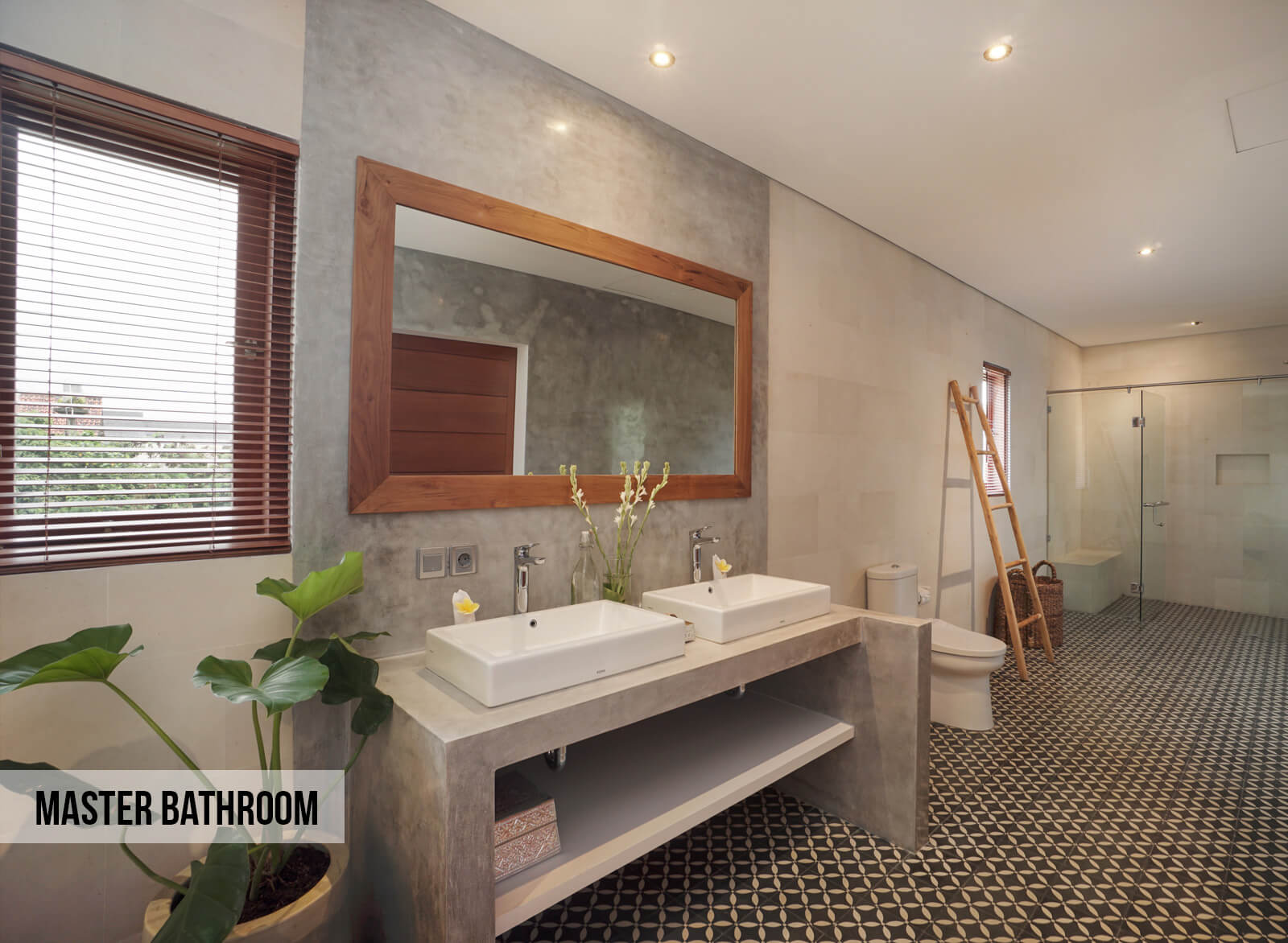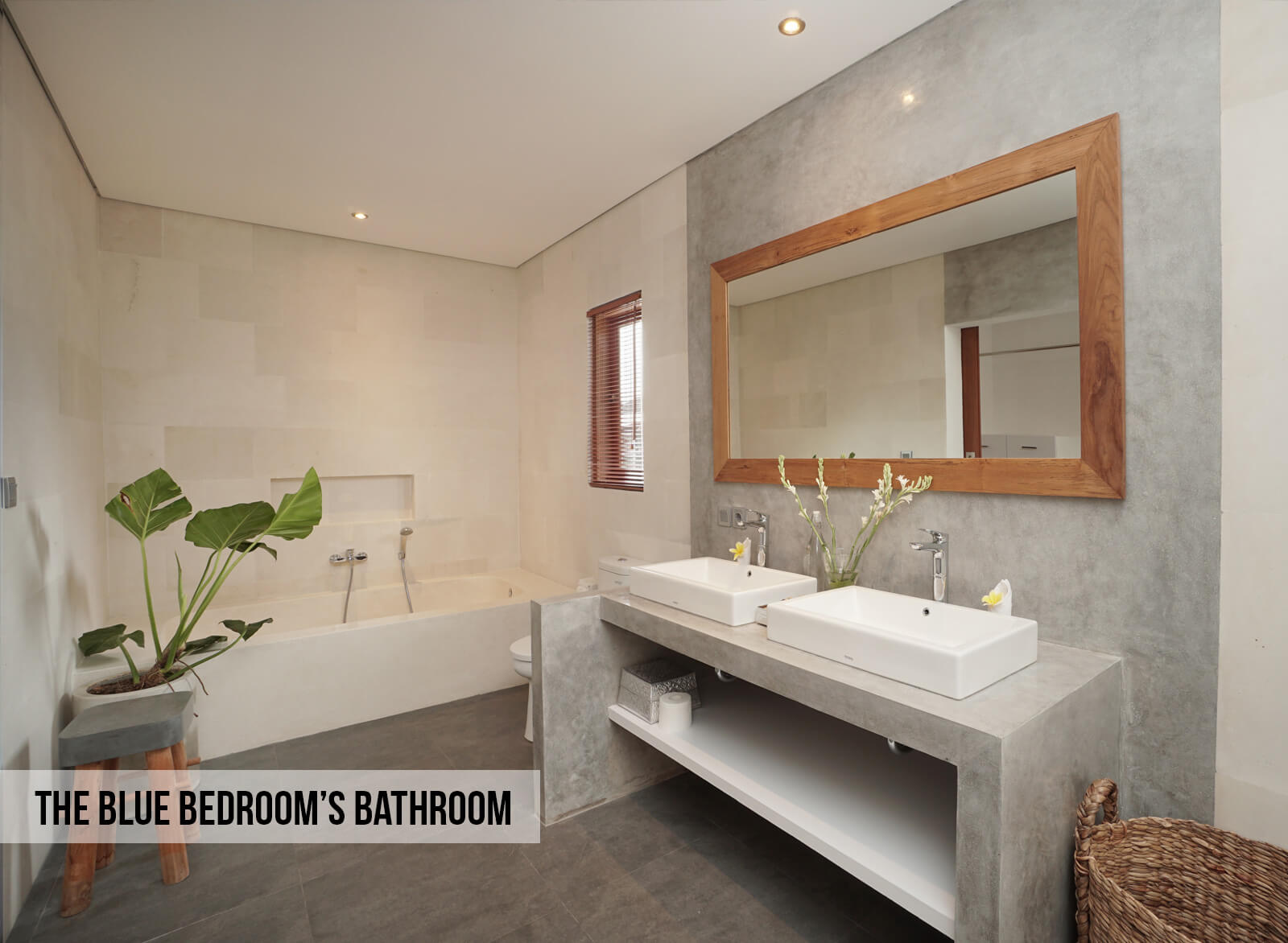 ENSUITE BATHROOMS
International TV and movie channels are available in our cosy media room.
Villa JOJU has 4 luxurious ensuite bathrooms, each with its own shower and oversize bathtub. The Master bath tub is the oversize egg shape tub of dreams, while the Grey Bedroom's bath brings the outside in. Nestled in a garden of its own, and with a panel of glass over head, you can stargaze as you soak.
Polished concrete surfaces, Indonesian natural stone bath tubs, leafy plants, rattan baskets and timber furniture, there is also plenty of storage and surface space for your own toiletries. Pack light though, all JOJU bathrooms come with amenities including hairdryers, shower and bath gels,  shampoo and conditioner, shaving kits and razor kits.  Parents can also relax, we have baby wash, potties, diaper cream, wet wipes, child toilet seat attachments and footstools for little ones to use the sink too.
The villa is kitted out with premium Japanese branded bathroom products; the w/c has a very fancy bidet feature, for guests to spend a penny (or two) in style!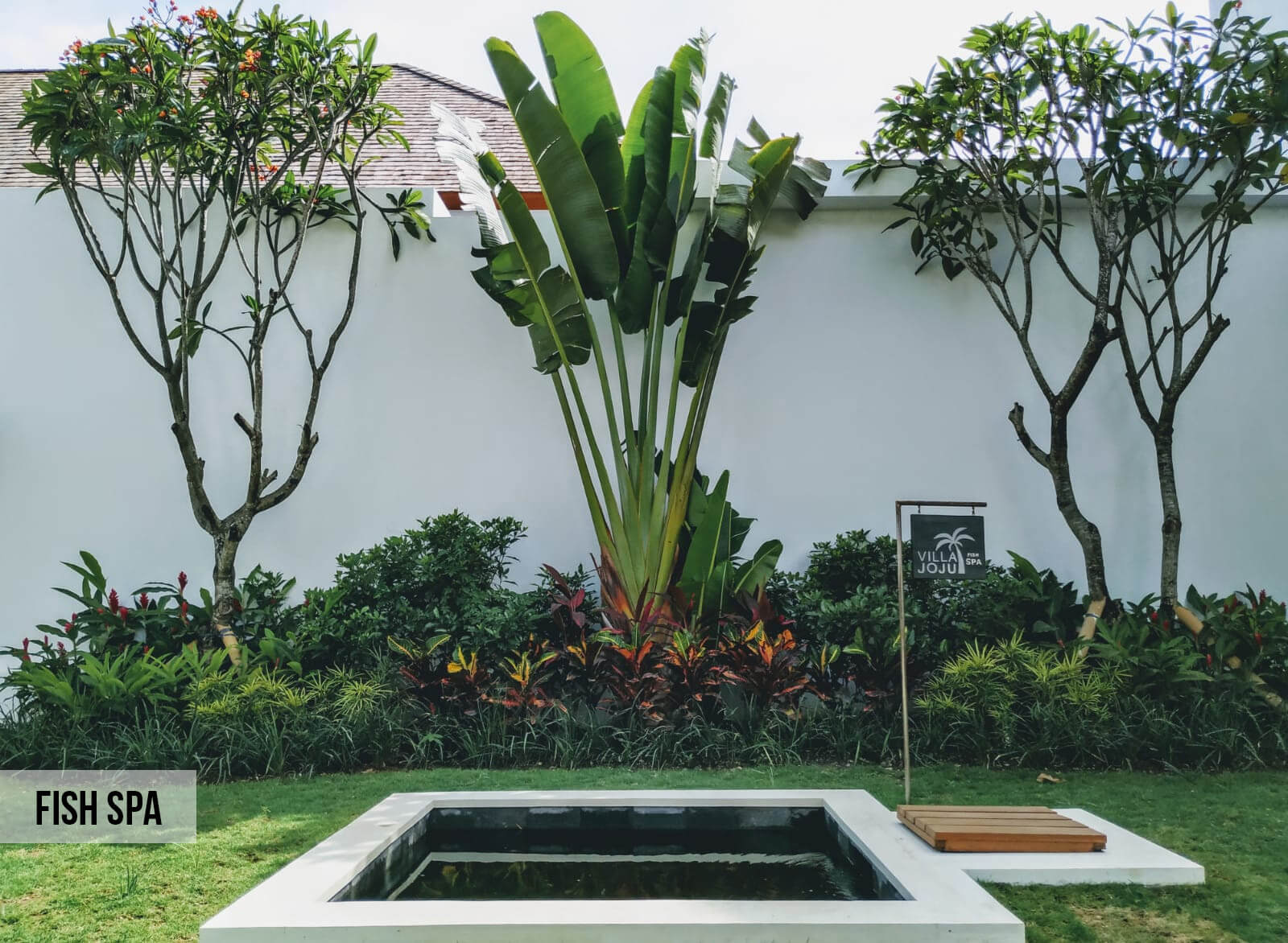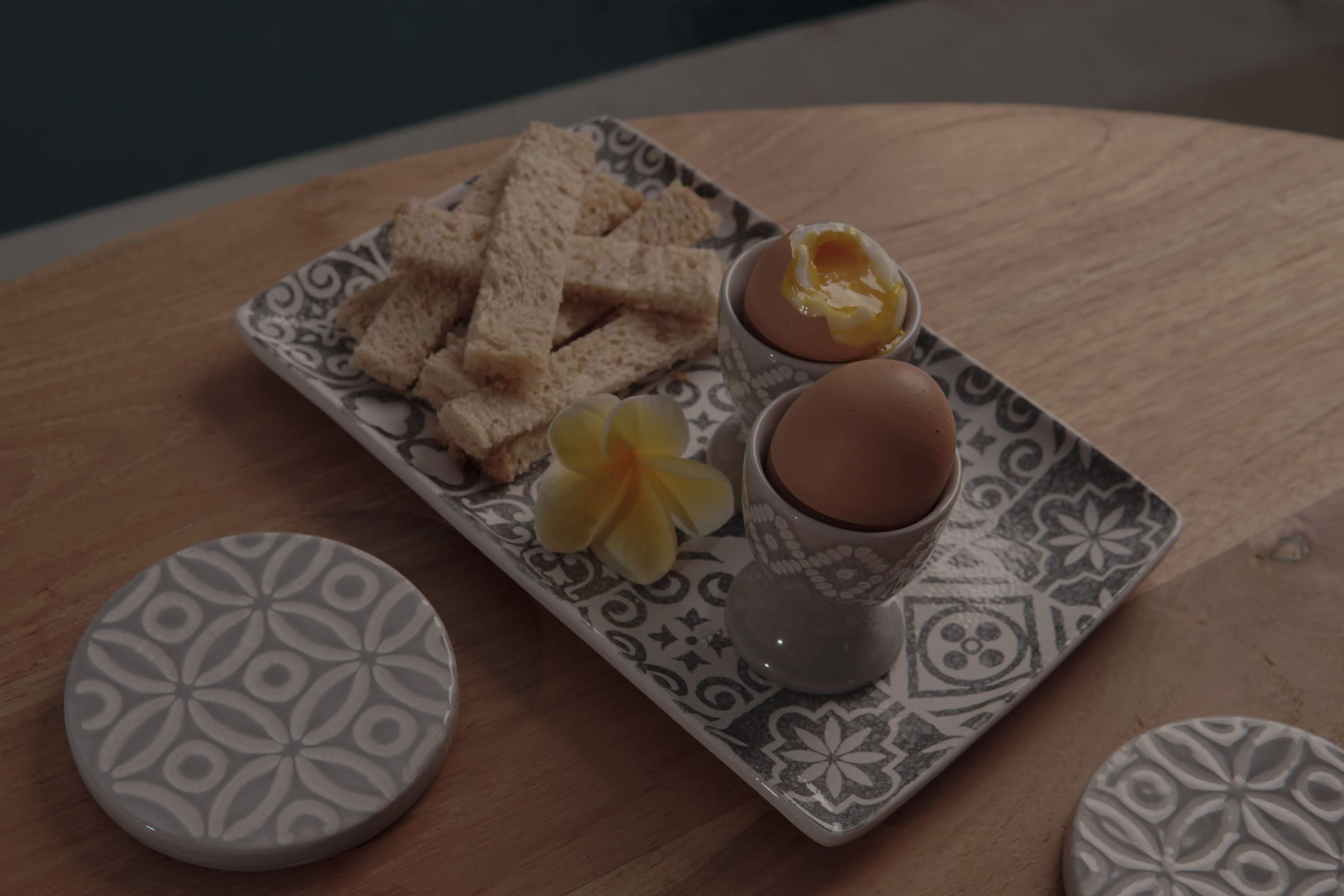 BREAKFAST, TRANSFERS AND WIFI