FINALLY FOR YOUNG FAMILIES, A HOLIDAY THAT FEELS LIKE A HOLIDAY!
[hb_booking_form search_only="yes" redirection_url="http://villajoju.com/staging/book-your-villa/"]
RESERVATION HOTLINE
+65 9728 2365
Reservation assistance available 24 hours
THE VILLA
Purpose-built for vacationing families, our mission is to help parents and children relax and make beautiful memories together on holiday.  Our commitment to this is obvious in every element, from our choice of location, which is minutes to Finns Recreation Club (with kid's club, water park, trampolining and bowling facilities) to it's design (secure children's room, outdoor movie theatre), to our furniture (high chairs, potty seats, coffee tables within sharp corners!) and our staff selection (everyone is a parent at JOJU!).  We understand what families need to have a relaxing vacation, and we are happy to provide it, in complete luxury!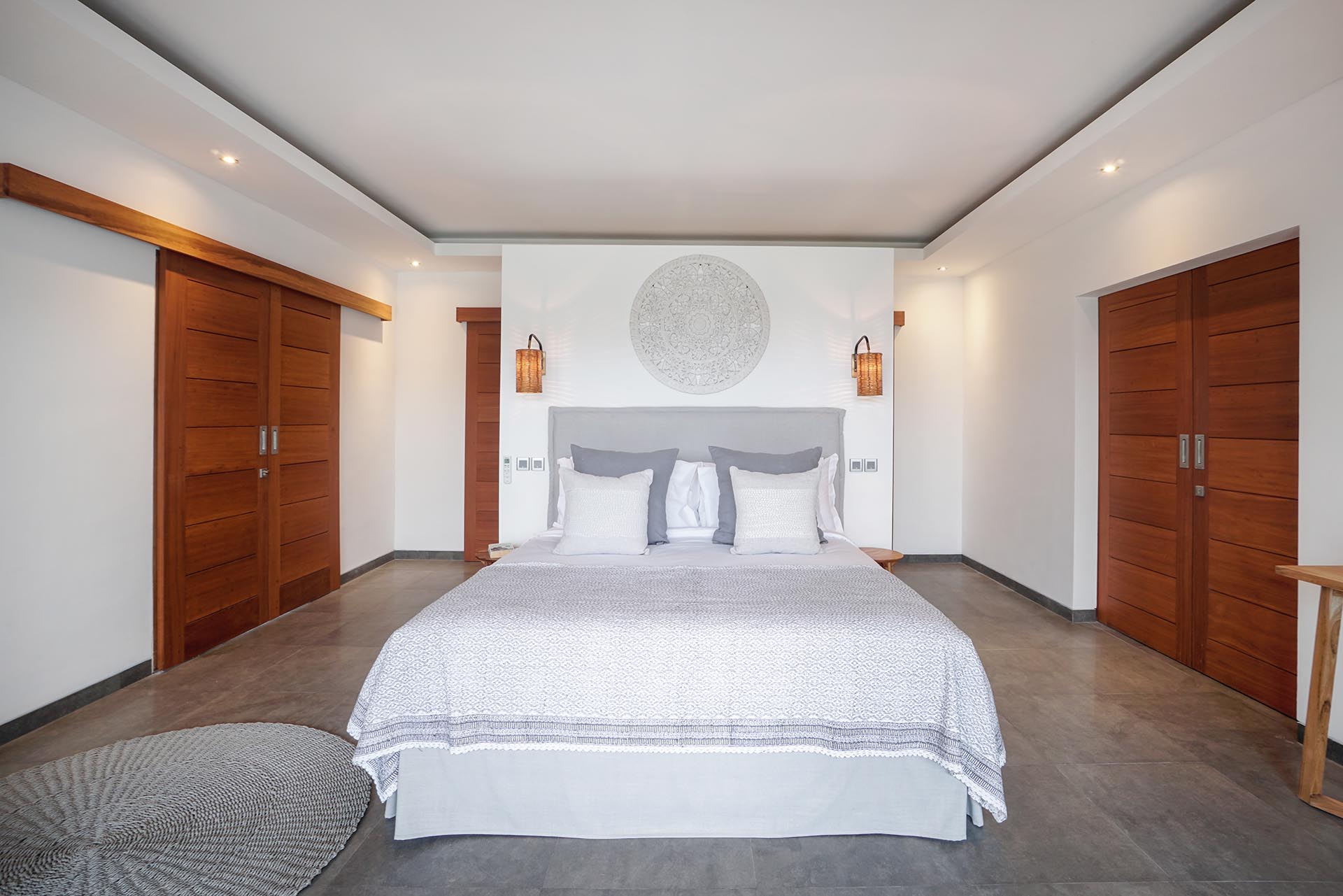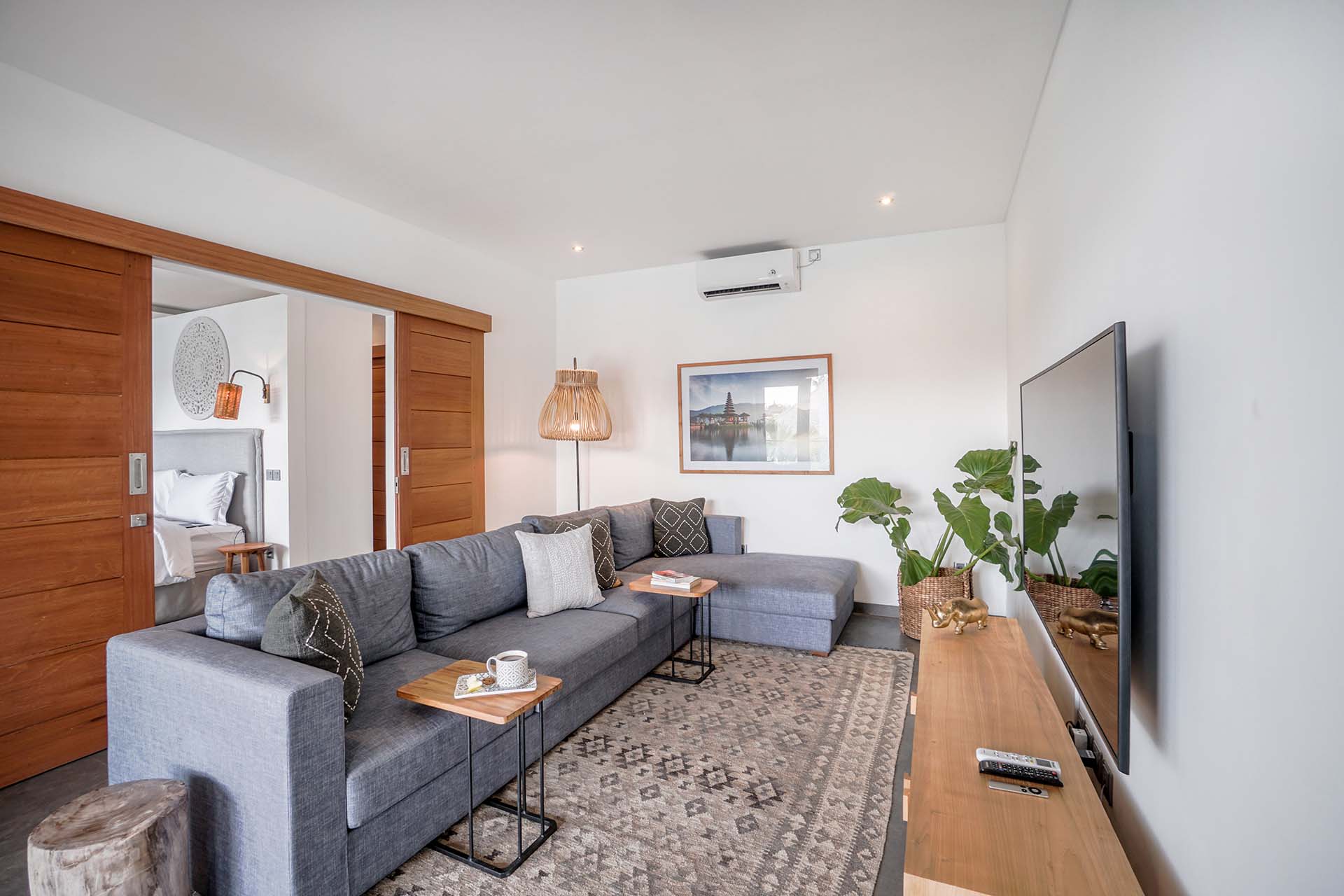 MASTER SUITE
The Master's king-size bed has the best view of sunset in the house. Its gentle grey hues are complimented by the soft lighting of tropical rattan reading lamps.
In designing JOJU's Master Suite, we wanted to address a problem that most young families have had to deal with on holiday – sleep deprivation! In Bali at least, Mum and Dad are often anxious about putting their children to sleep in a separate room, which tends to open directly into the vicinity of a pool. We believe we have the solution: THE ENSUITE KID'S ROOM!  At JOJU children sleep in reassuring proximity to their parents, in a secure room that is only accessible via The Master Suite, without compromising on privacy.
MEDIA ROOM
The Villa JOJU media room is a cosy corner of the house where the Smart TV is configured with both Netflix and Apple TV.
Inside, french doors lead to the Master as part of its suite, but the room can just as equally be used by everyone in the house.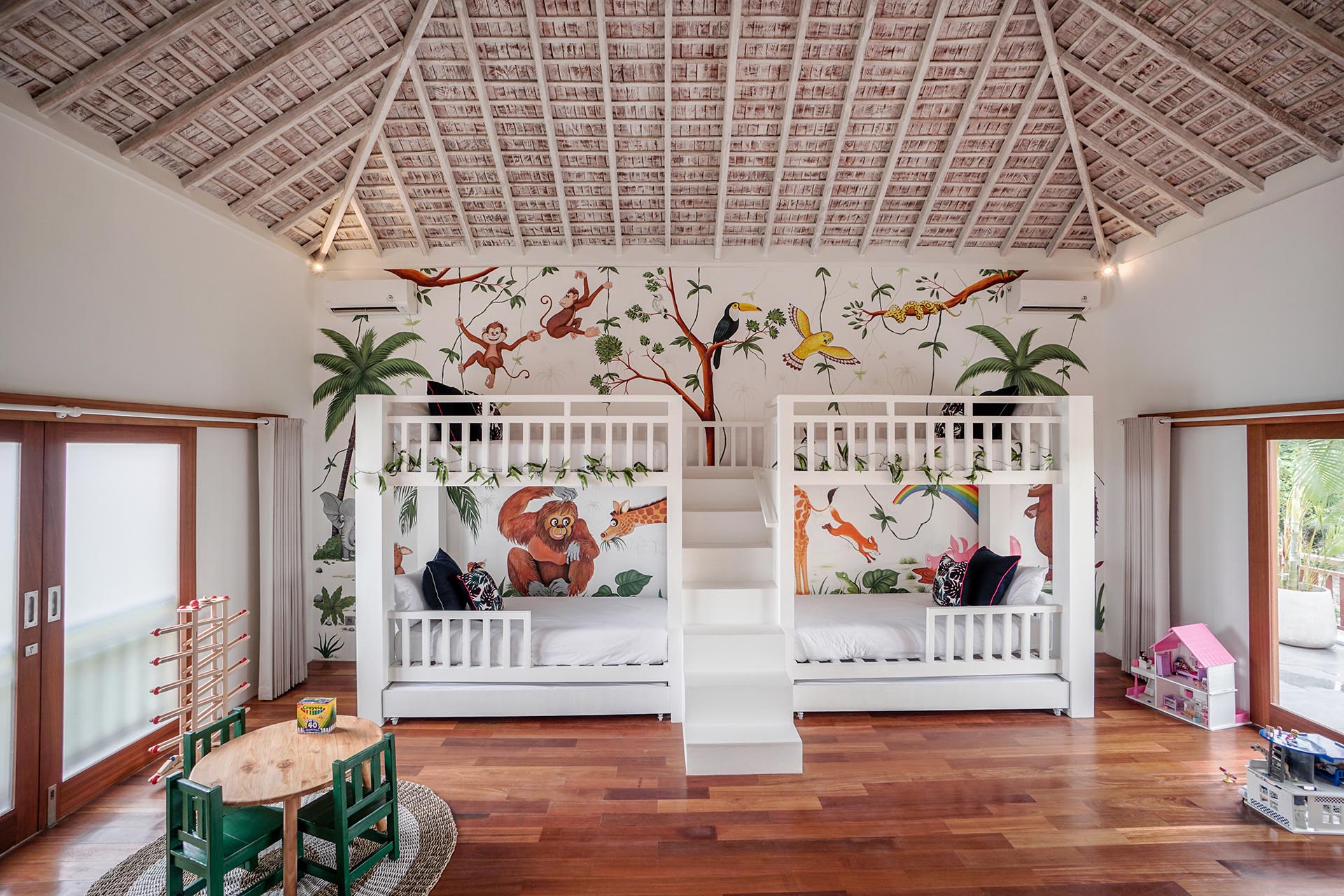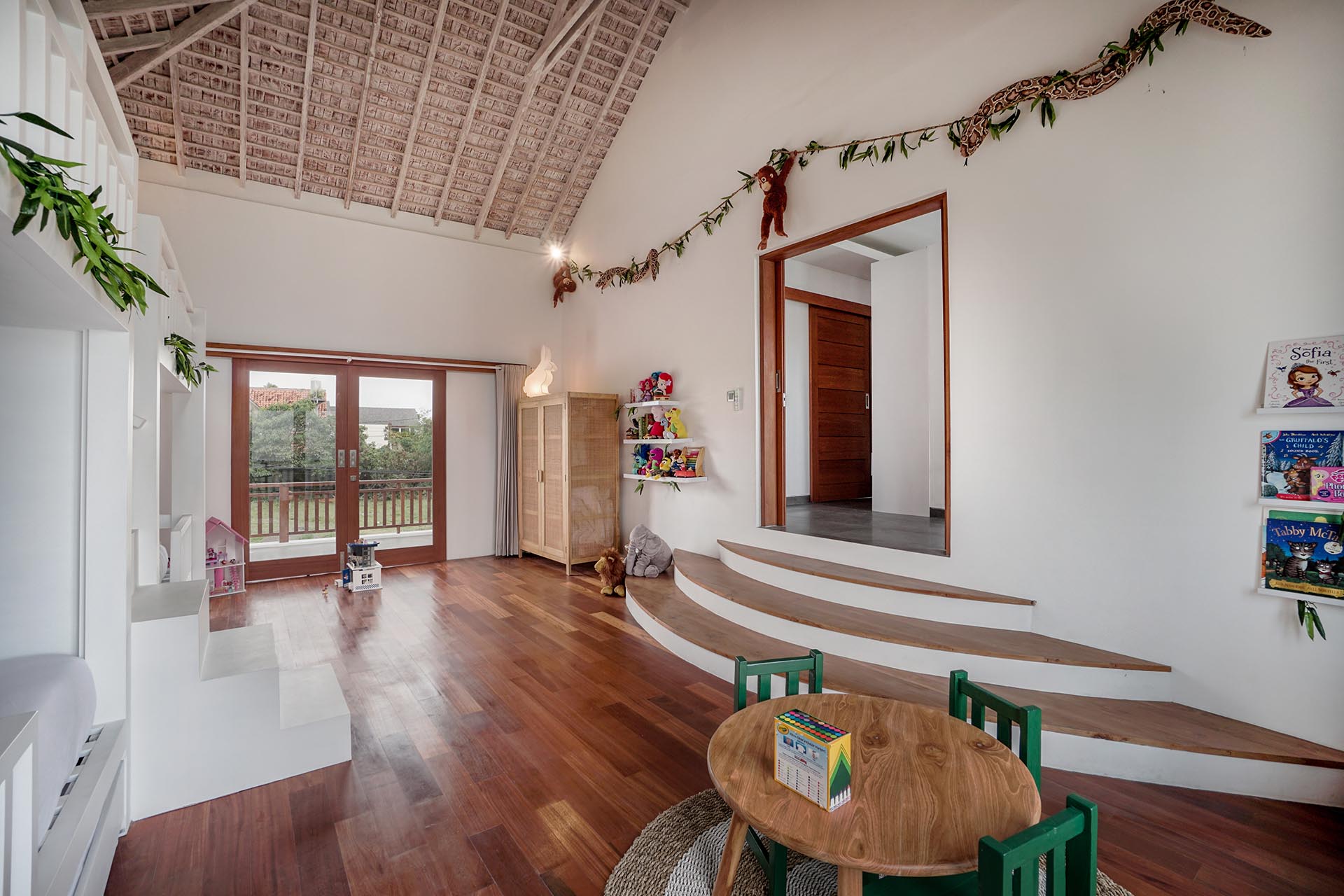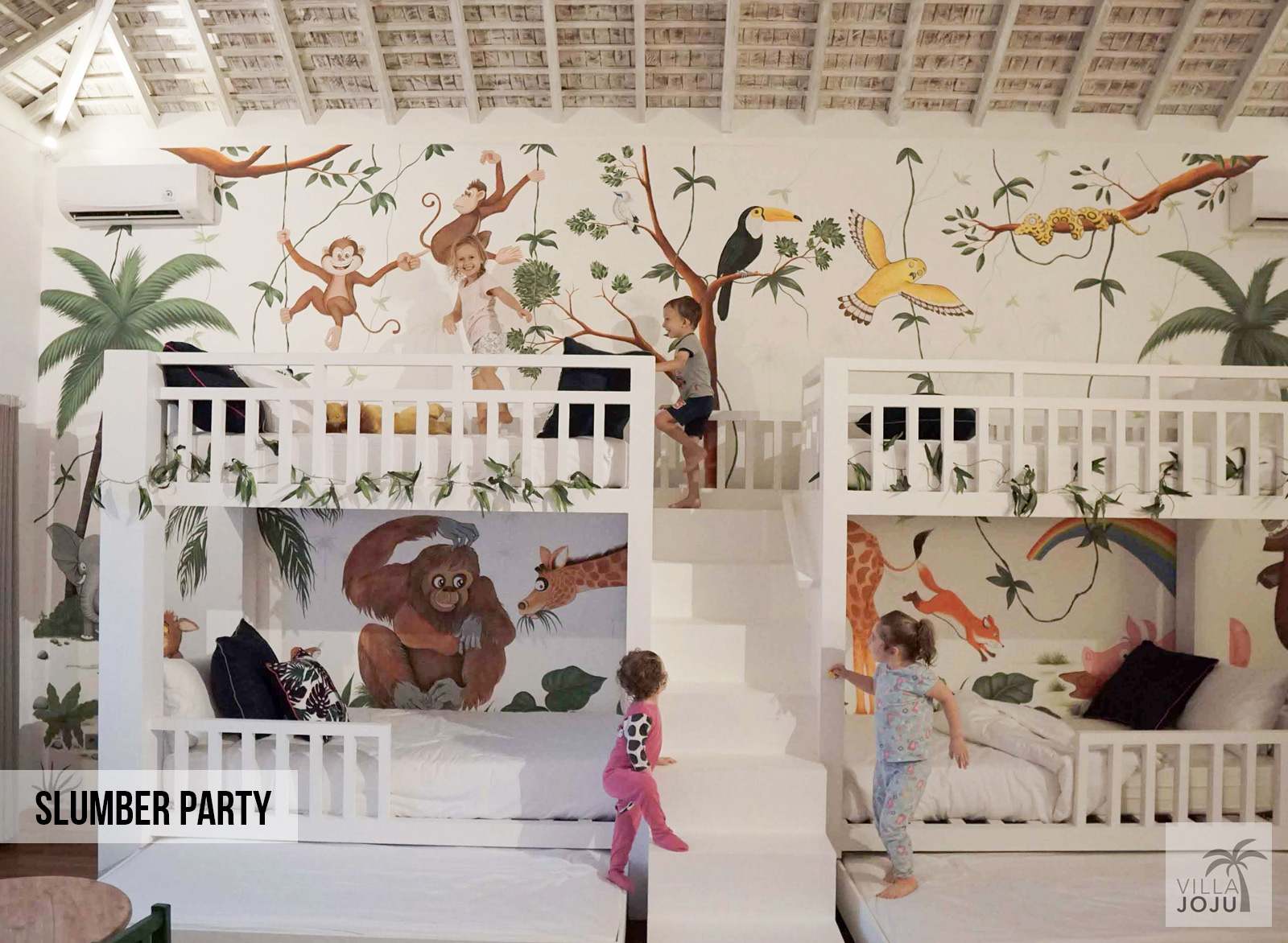 KID'S ROOM
Villa JOJU's giant kid's room, complete with bunk beds and comfortable rollouts, sleeps six children. Our favourite muralists spent almost a week painting the wall, which is an homage to our love of British author Julia Donaldson's Gruffalo books.  In the mural, Gruffalo & friends are visiting the Indonesian jungle – orangutans, snakes, and monkeys mix with illustrations of the very British Owl and Big Bad Mouse. The room is full of popular toys, games and books. The room is bright and breezy and fully-airconditioned, with a spectacular view of the white-washed Sirap roof.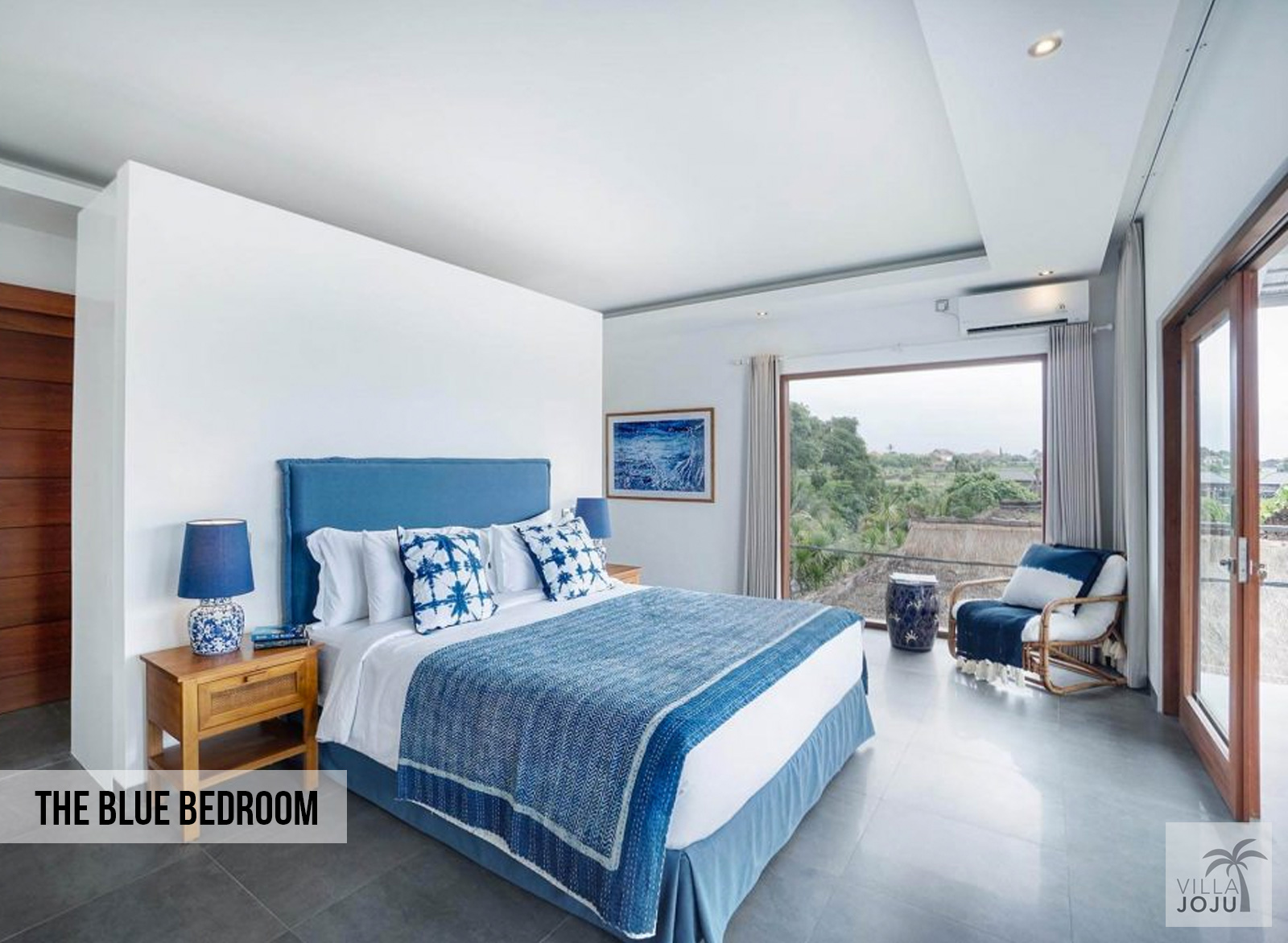 THE BLUE BEDROOM
The Blue Bedroom, like all of the bedrooms at JOJU is air-conditioned and features black out curtains.  Decorated in different hues of blue, it's a particularly calming place to sleep located on the first floor.
It also boasts the best view in the house, which is why a floor to ceiling picture frame window is fitted, revealing the rolling green landscape of Berawa Village.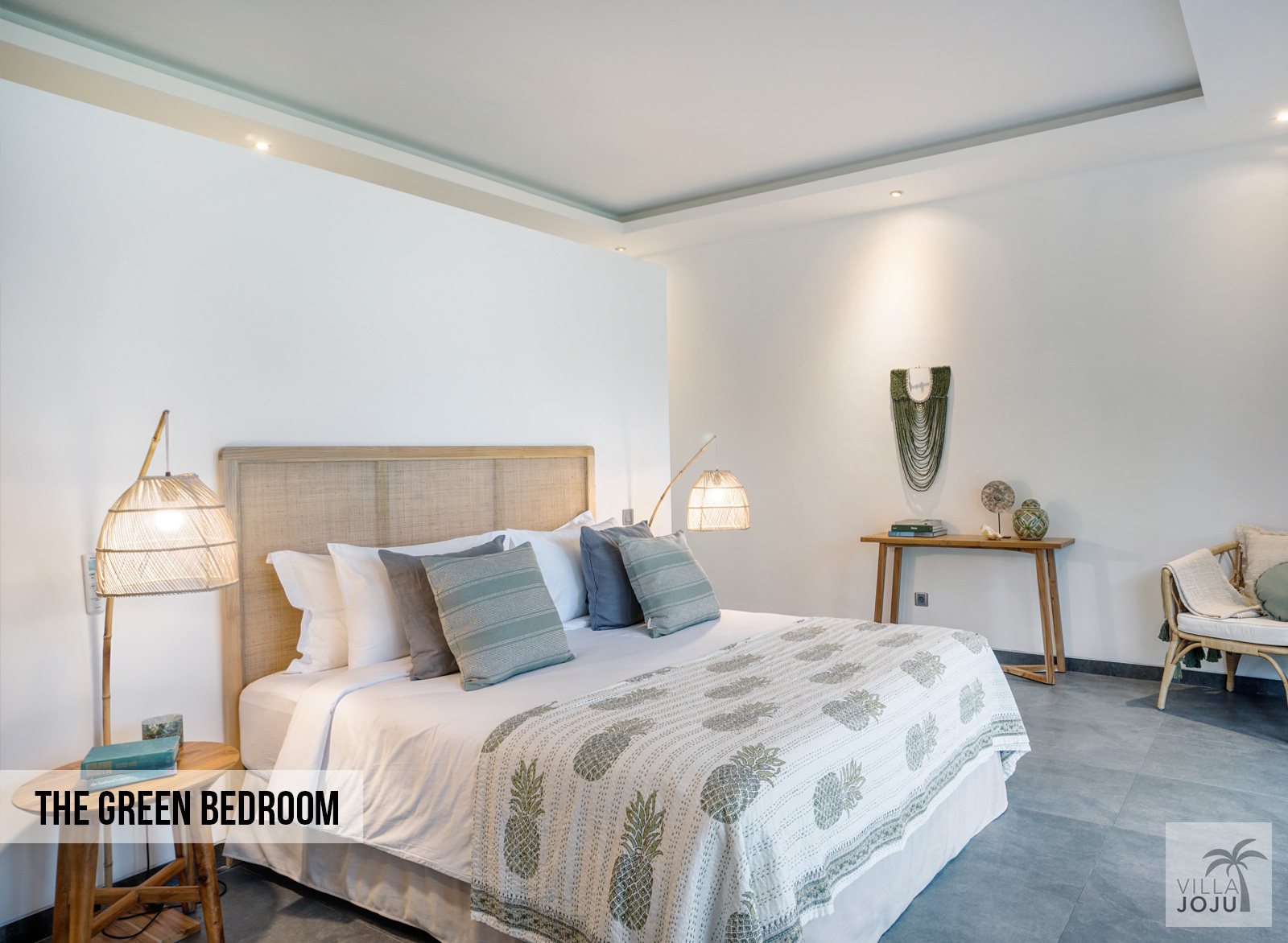 THE GREEN BEDROOM
Air-conditioned and with blackout curtains, our Green Bedroom is on the ground floor of the house with garden views.  The king bed is decorated in shades of tropical green and fun pineapple prints.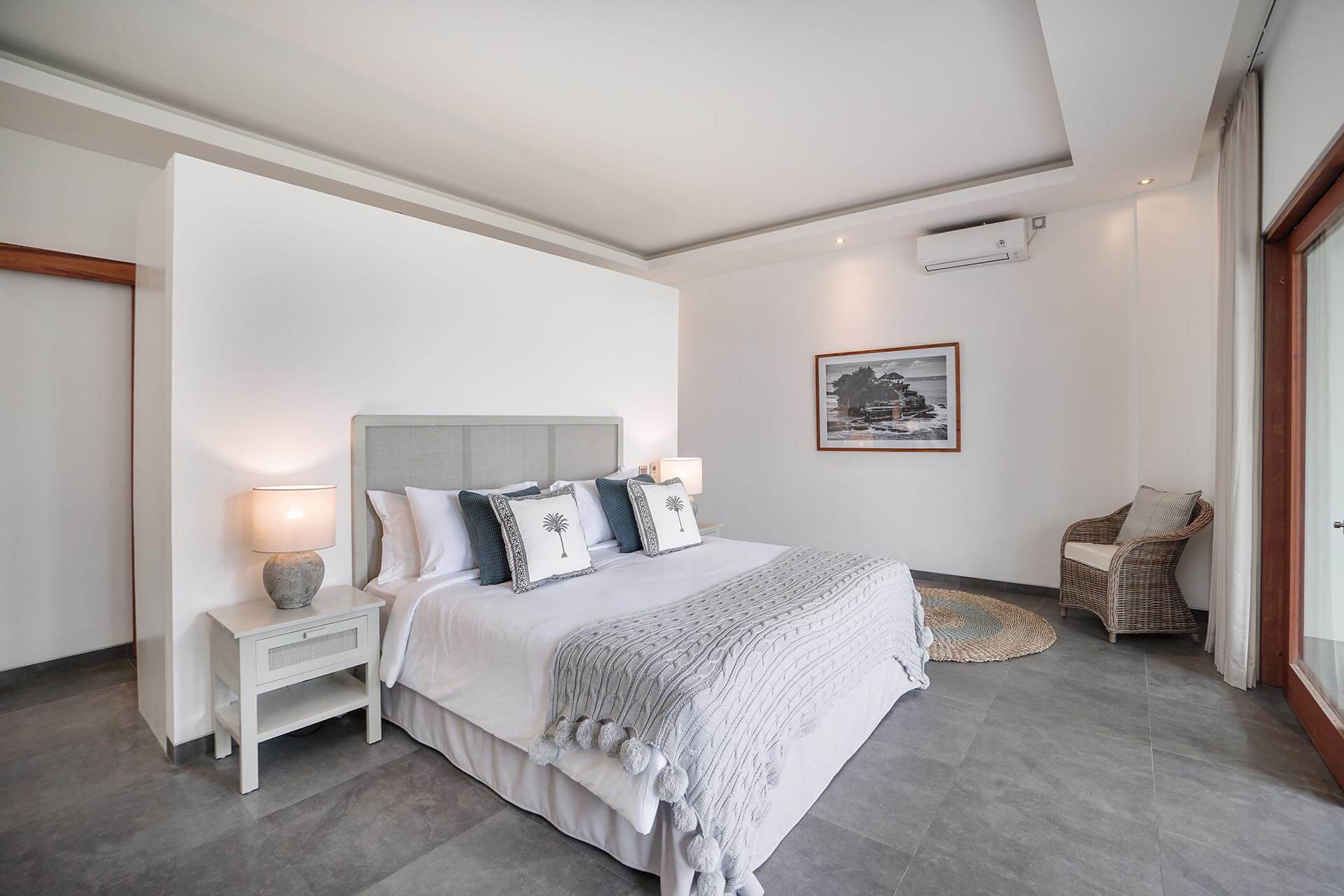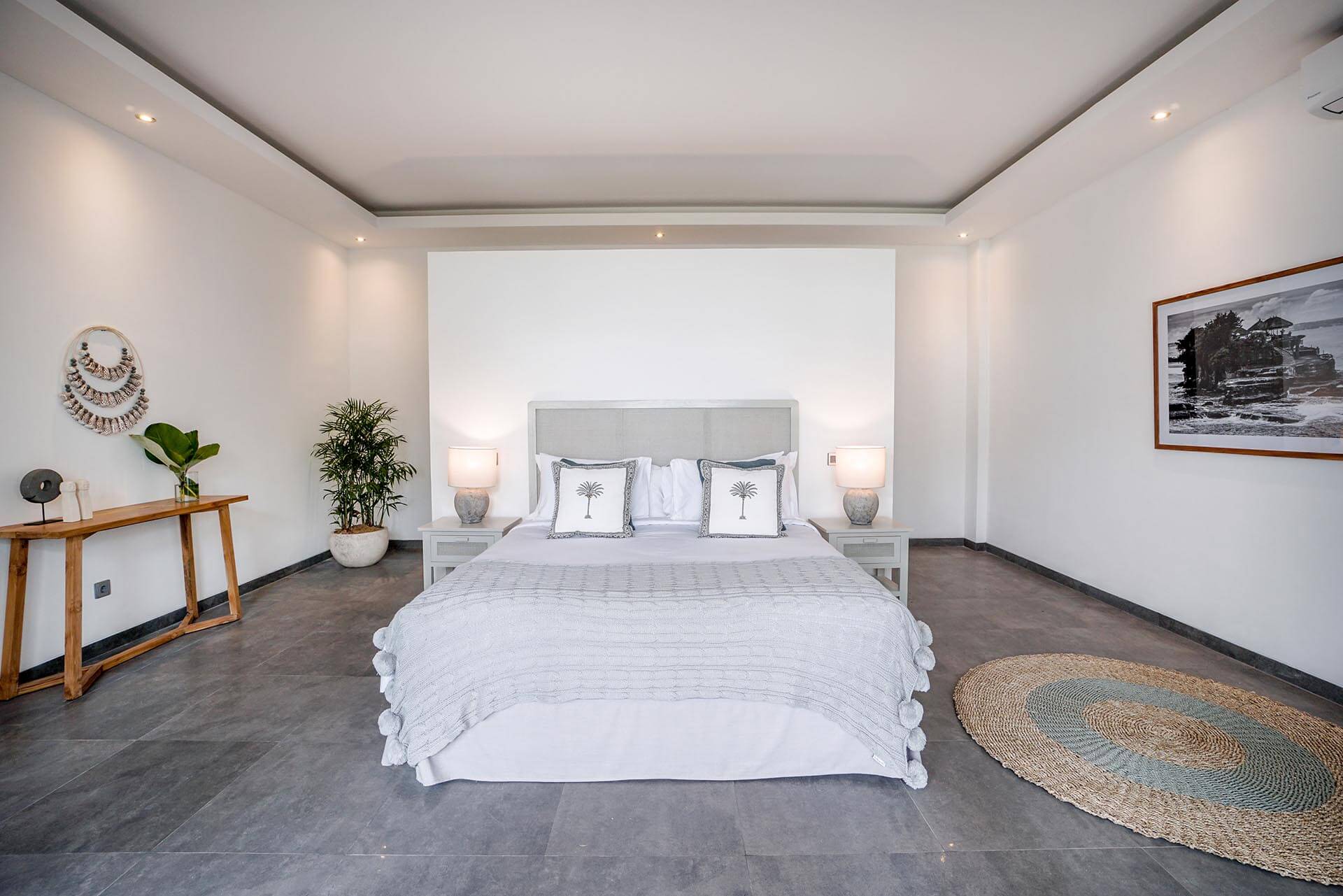 THE GREY BEDROOM
The Grey Bedroom is air-conditioned and features black out curtains.  Located on the ground floor, the Grey Bedroom's ensuite enjoys 'probably' the best bathtub in the house, it is covered by a glass ceiling for a soak under the stars!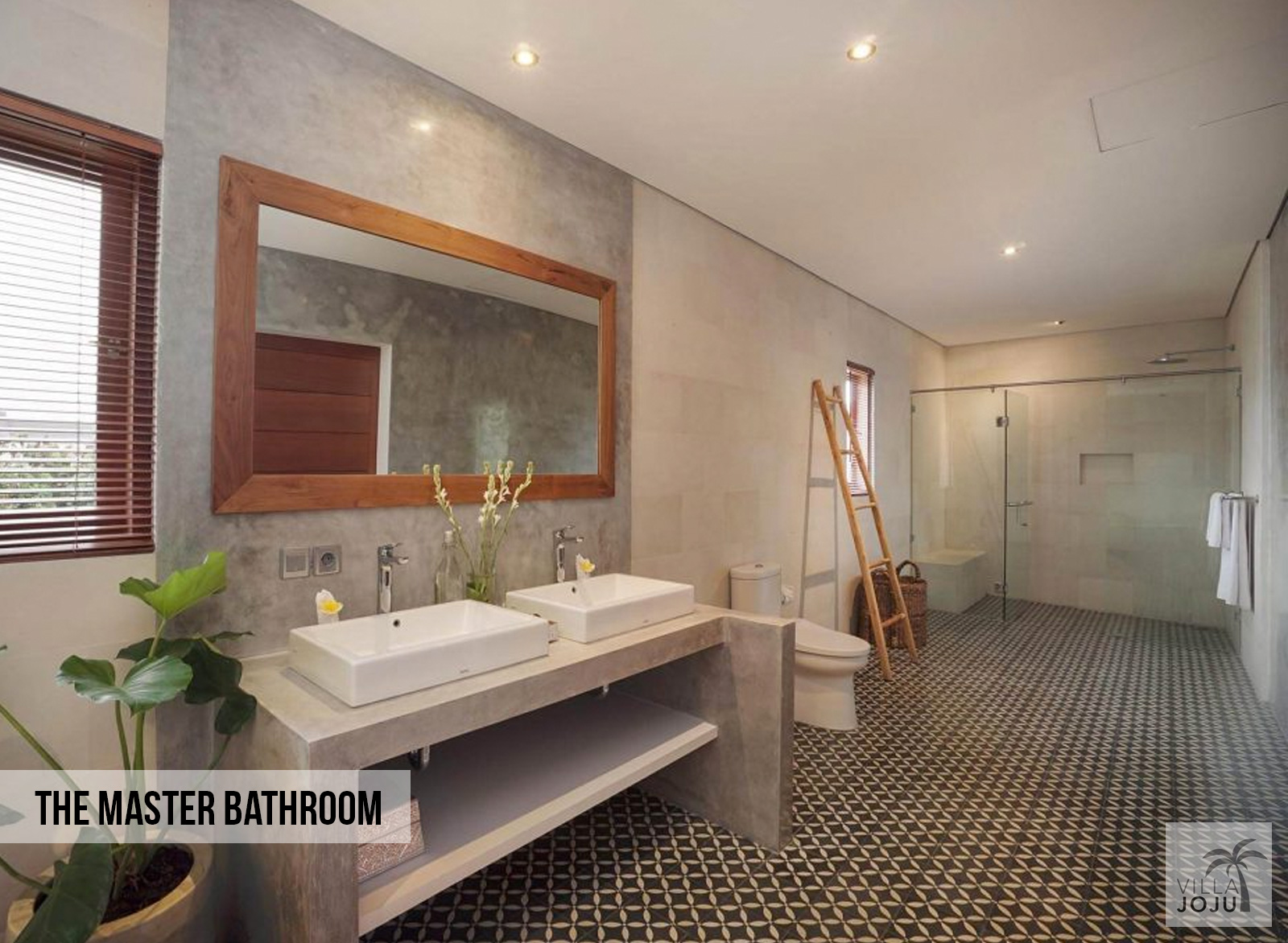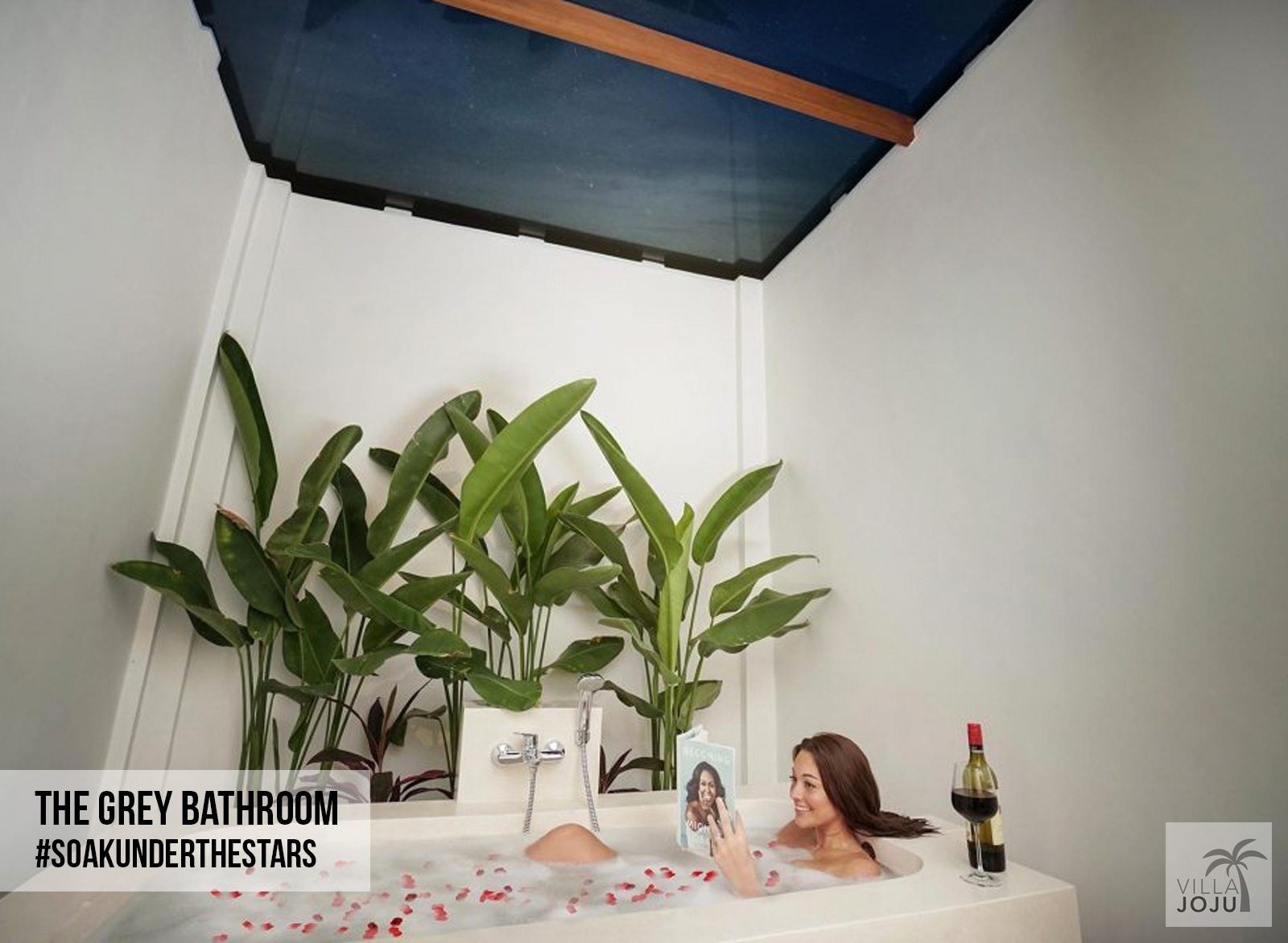 ENSUITE BATHROOMS
Villa JOJU has 4 luxurious ensuite bathrooms, each with its own shower and oversize bathtub. The Master bath tub is the oversize egg shape tub of dreams, while the Grey Bedroom's bath brings the outside in. Nestled in a garden of its own, and with a panel of glass over head, you can stargaze as you soak.
The villa is kitted out with premium Japanese branded bathroom products; the w/c has a very fancy bidet feature, for guests to spend a penny (or two) in style!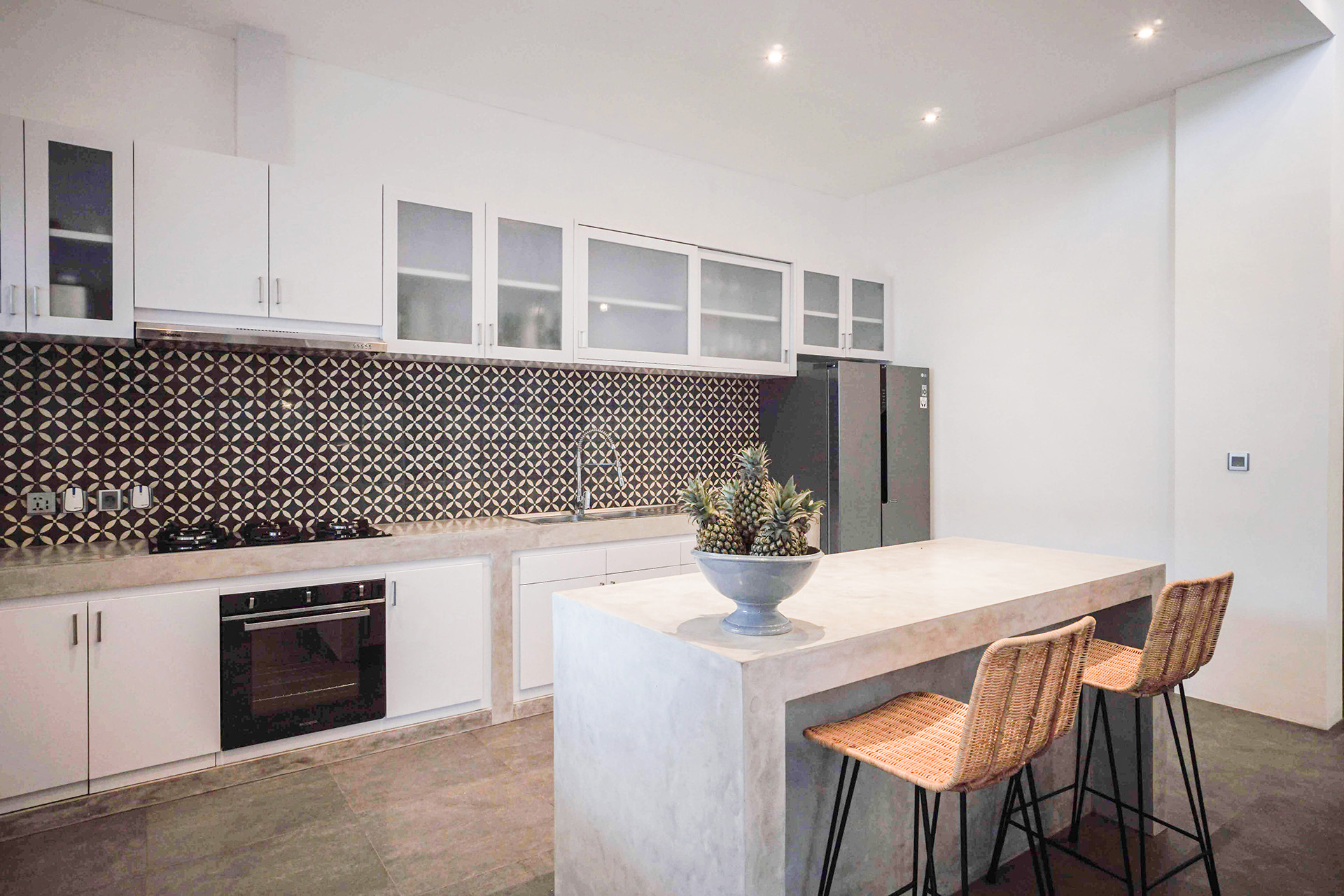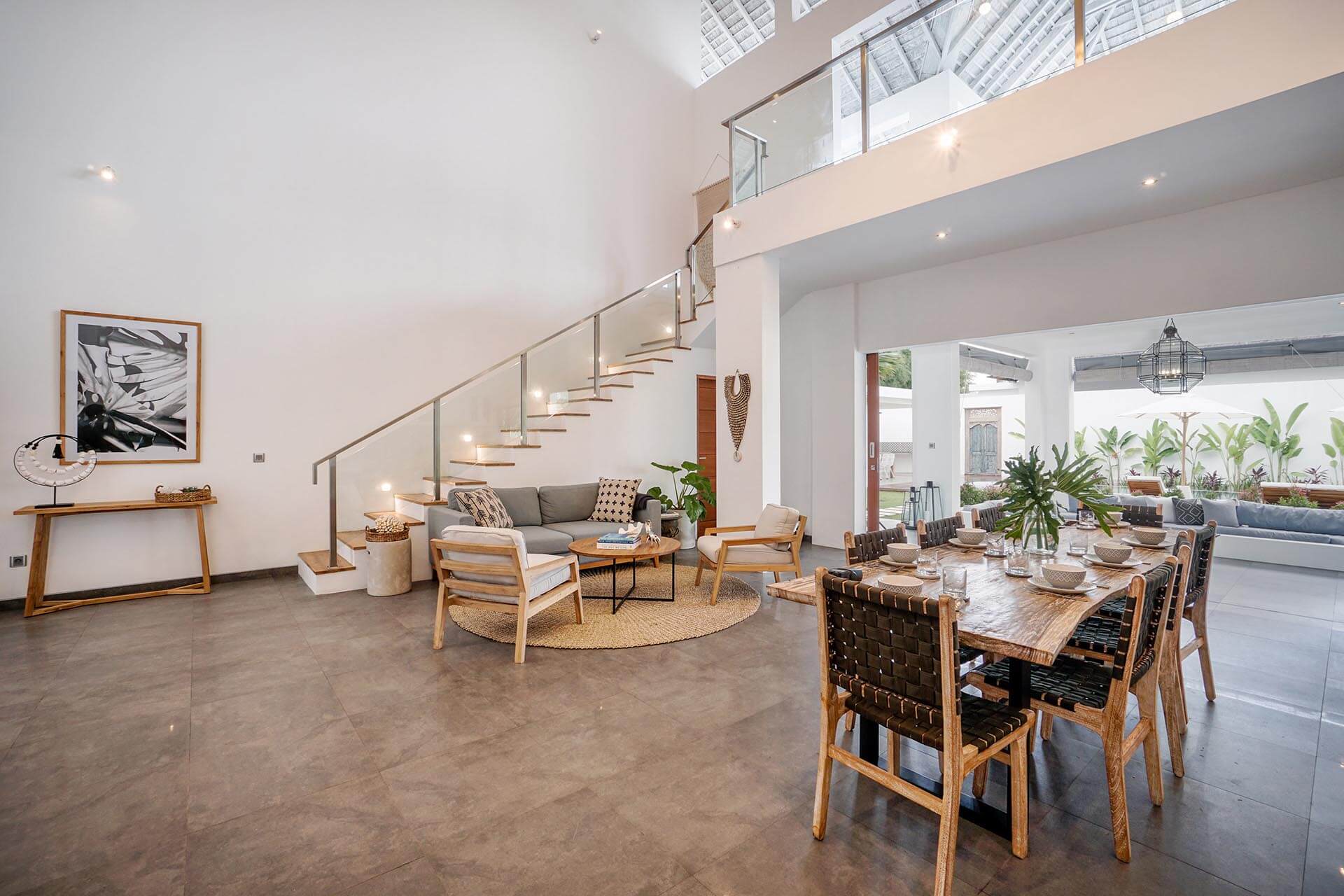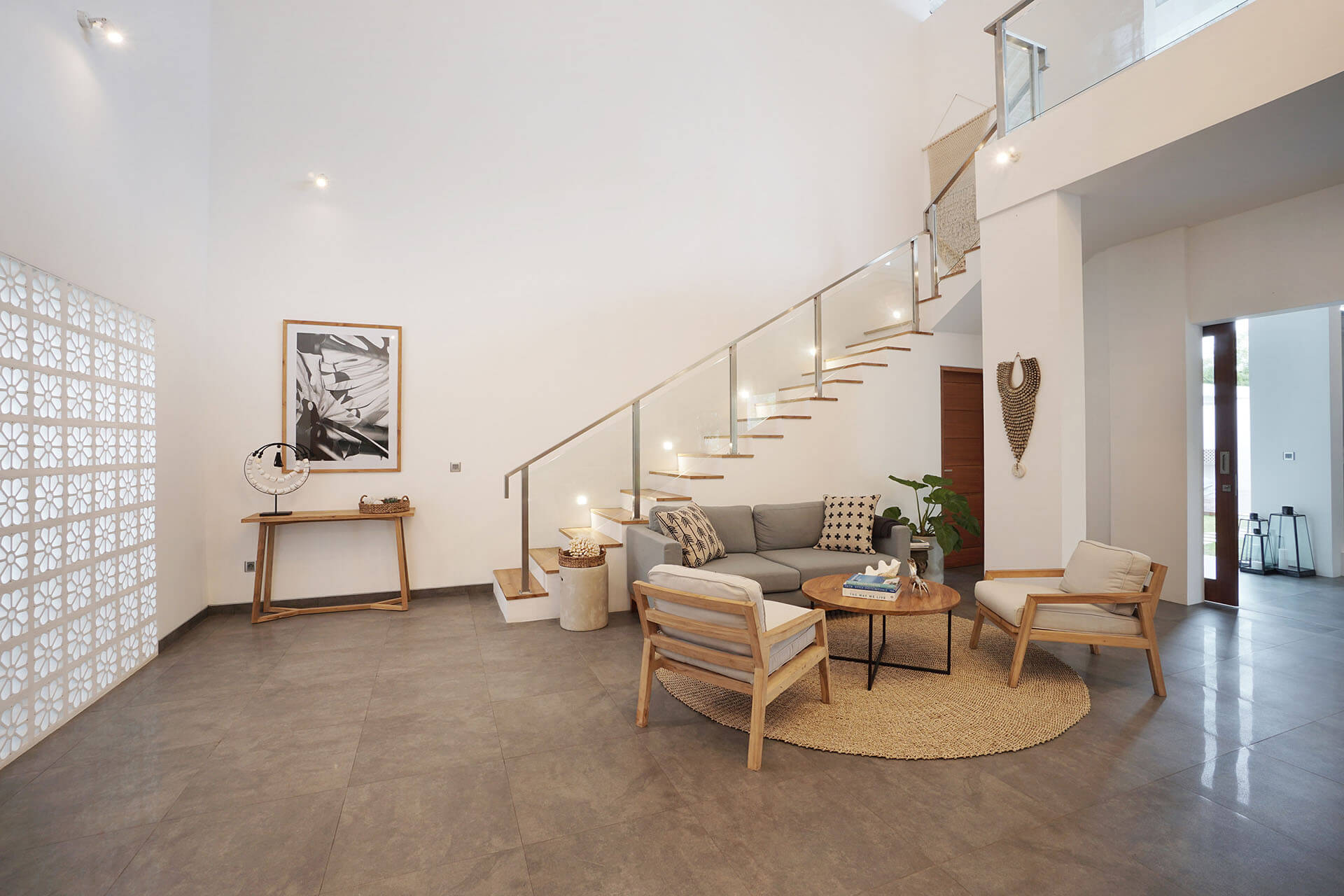 SUNKEN LOUNGE
At night we can transform the space into JOJU's very own private movie theatre. Complimentary popcorn included!
PRIVATE POOL
With fluffy pool towels provided, our pool is lined with both single and double sun loungers, as well as hotel-grade parasols for shade from the Bali sun. There is also a floating pool bed.
The main pool slopes down to a depth of 2m for older children, while the 'splash zone' is just 30cm deep, and can be fenced off, for younger kids.  The pool toy basket is full of floats, mermaid dolls, pool noodles, boats and inflatables for guest use.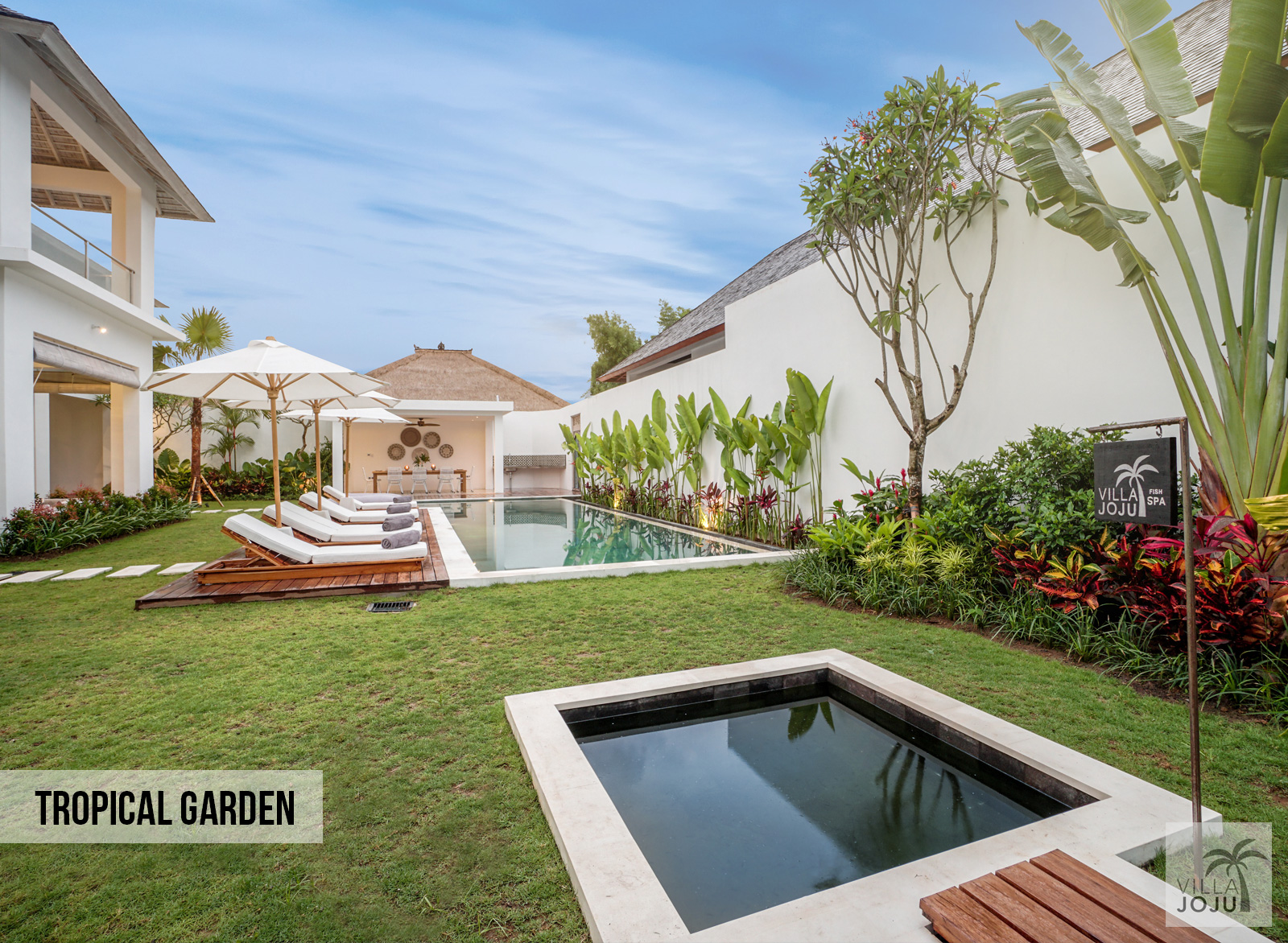 TROPICAL GARDEN
Maintained by our full-time Gardener, the JOJU garden features a lush green lawn for play, and beautiful native Balinese flora and fauna with our trademark palms from the JOJU logo and frangipani trees.  We are very proud of the complimentary foot spa, which is full of garra rufa fish, greedy for human feet!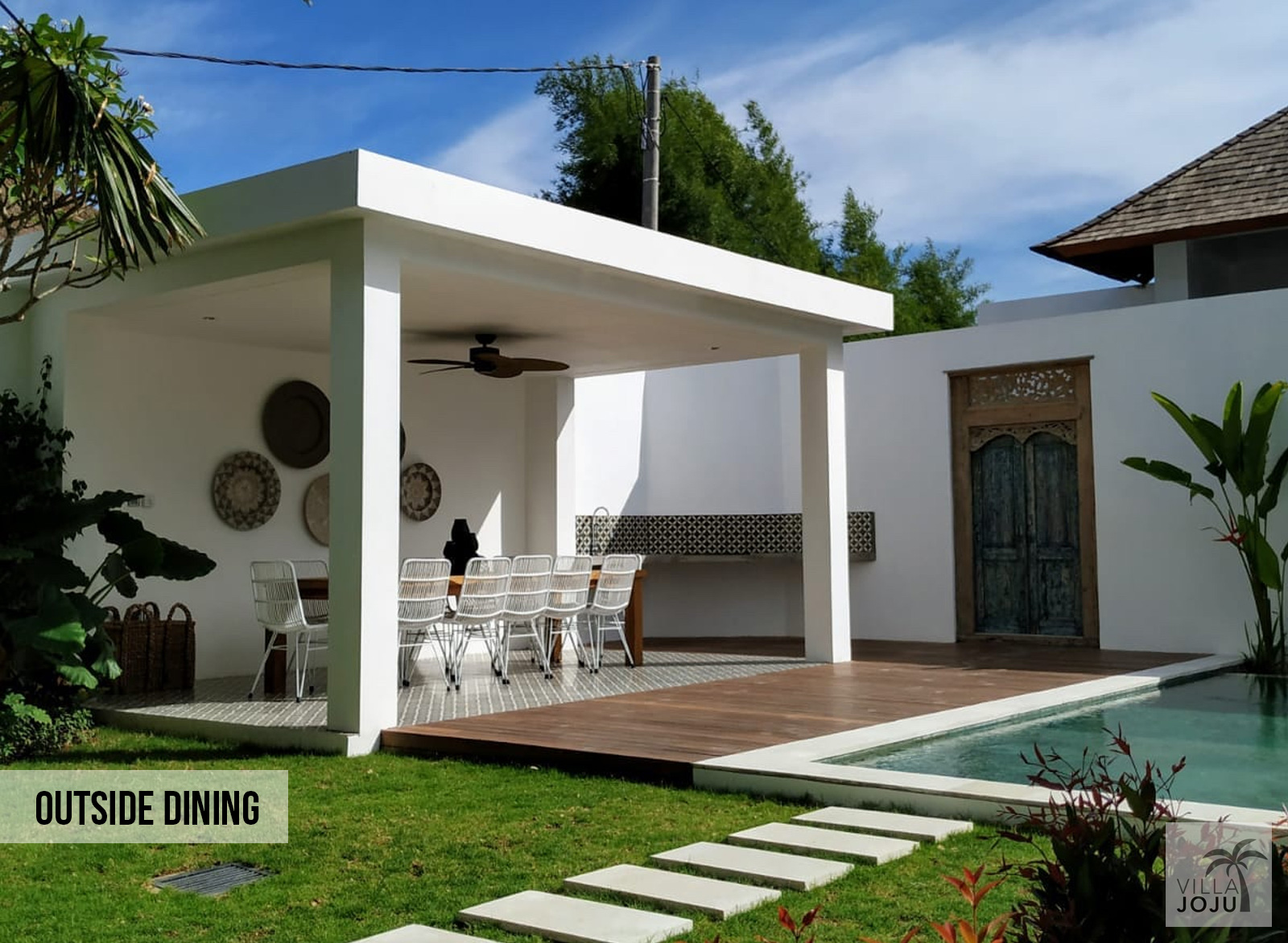 OUTSIDE DINING
Enjoy breakfasts, lunches and dinners poolside at the outside dining area.  With a 10 person capacity and views of the pool and gardens, this area is a stunning setting to share a meal, day or night.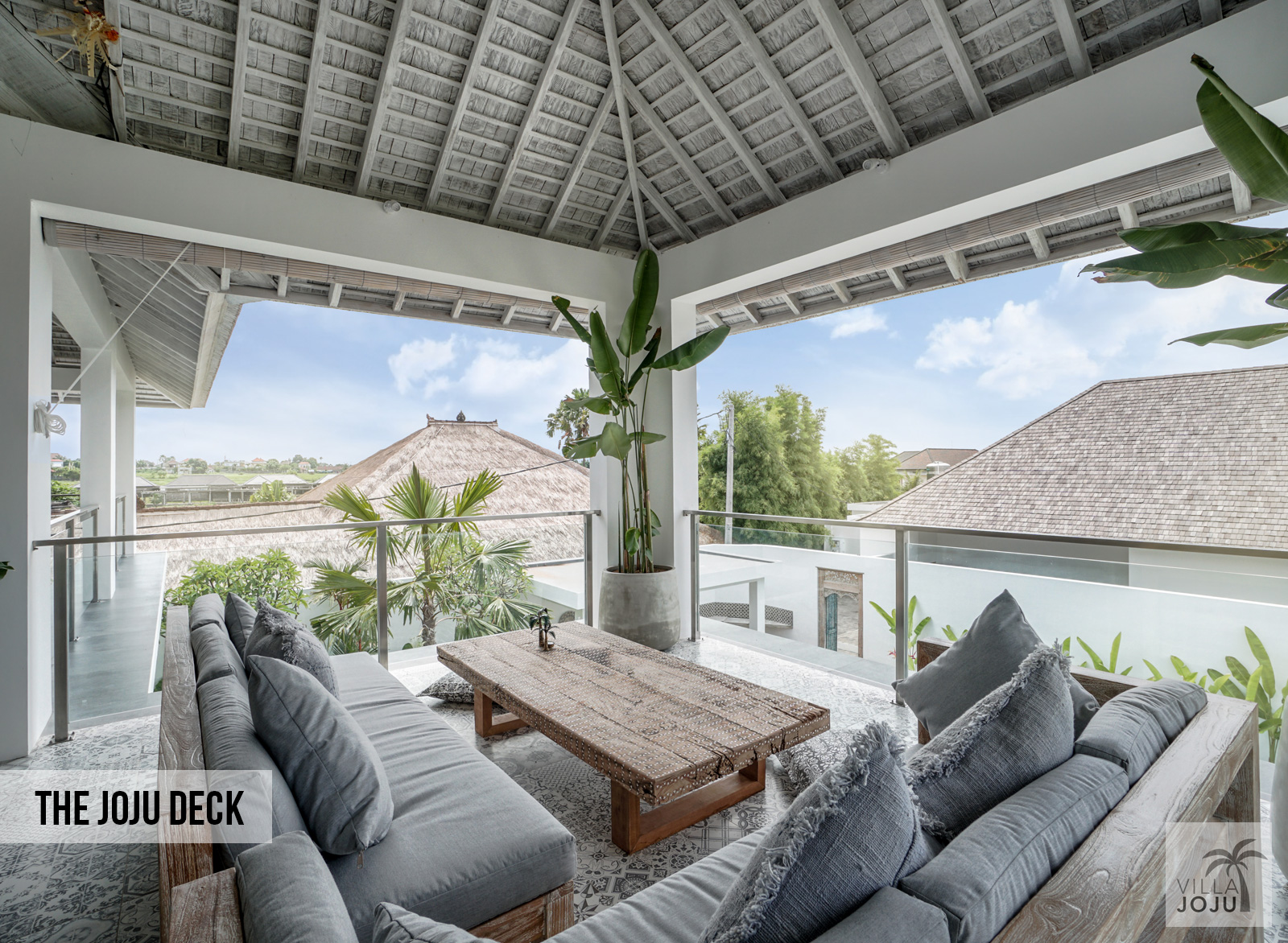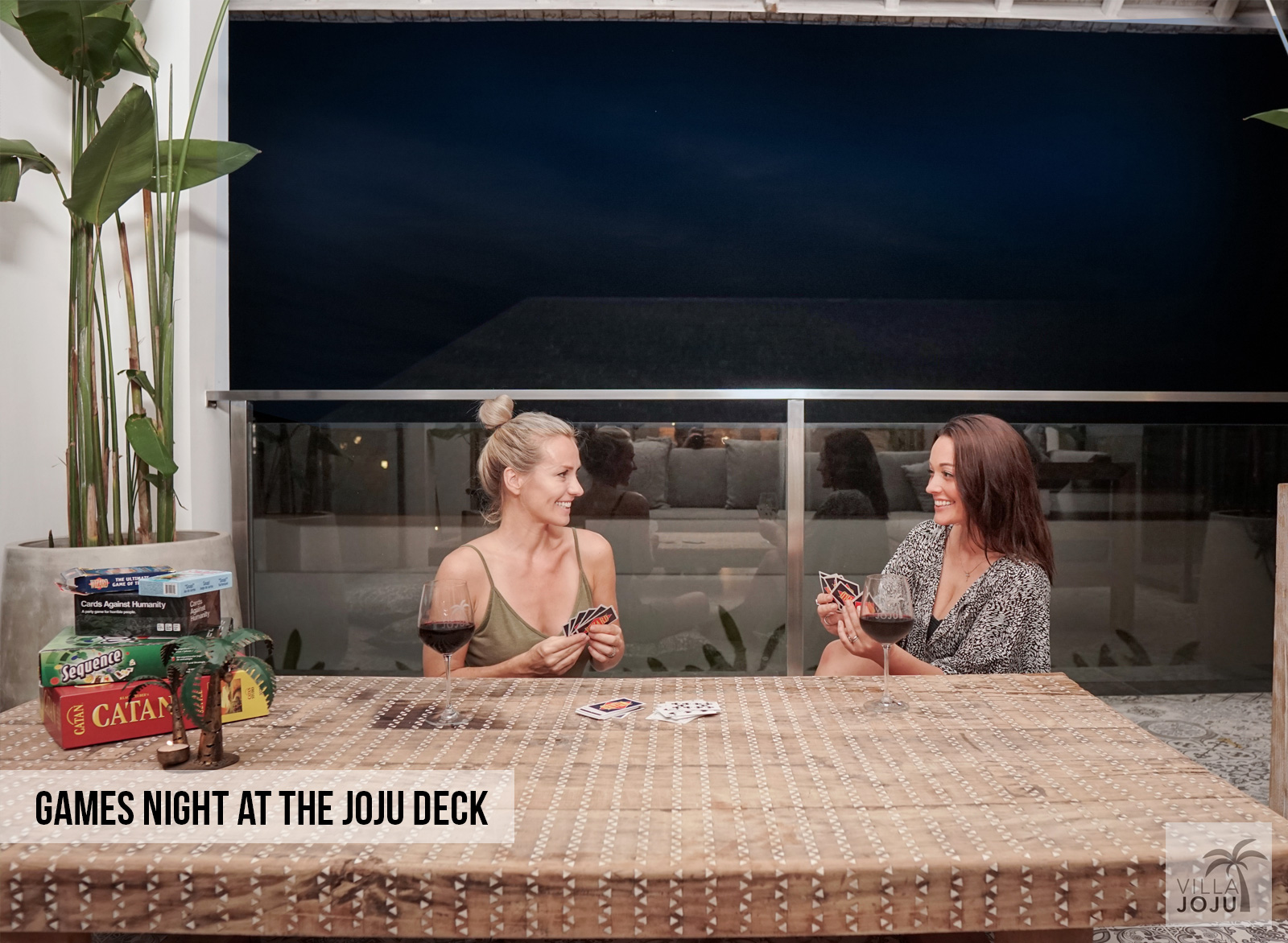 BREAKFAST, TRANSFERS AND WIFI